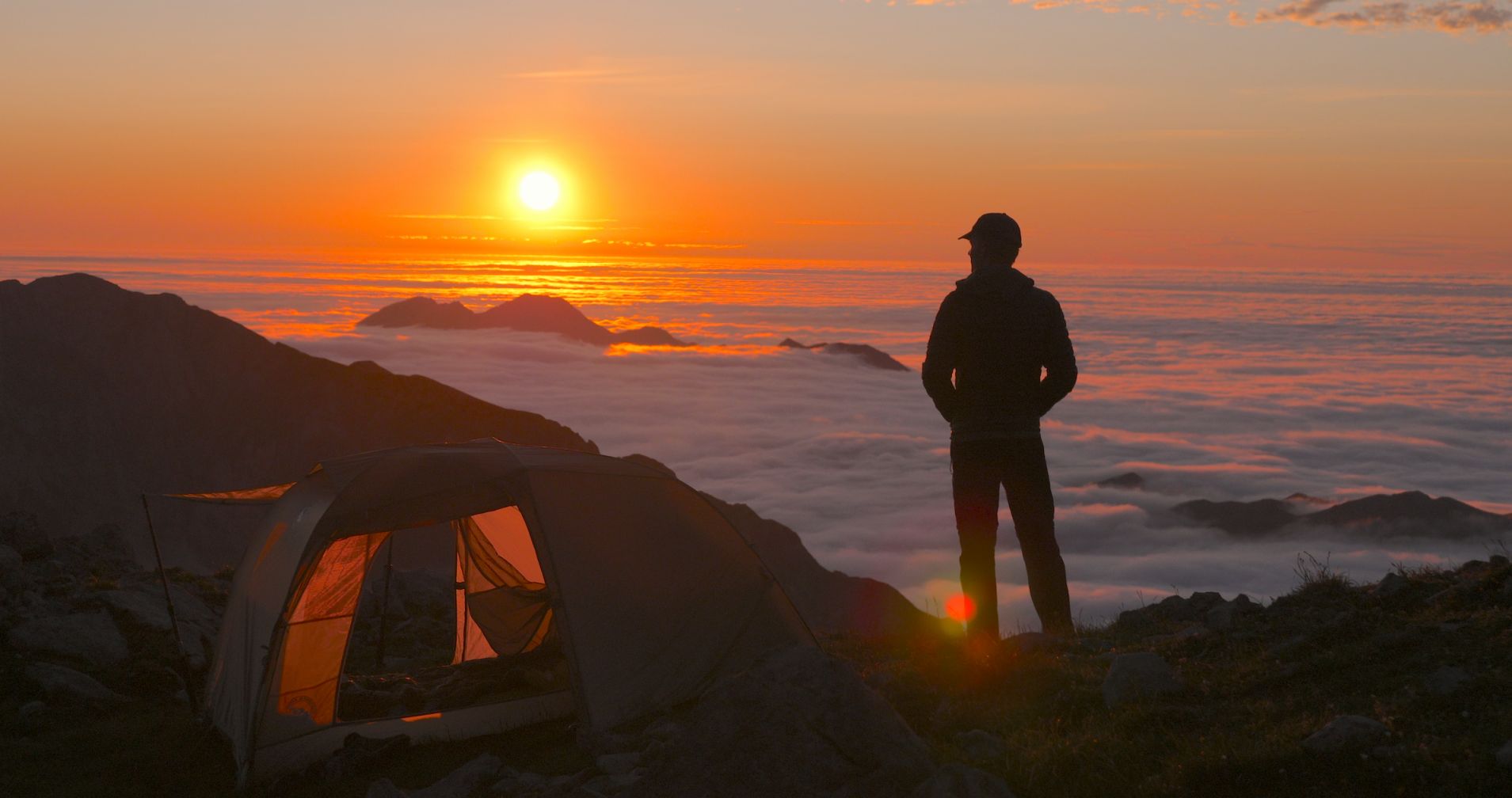 Los Picos de Europa
Posted on: September 24, 2021
In July 2021 I solo hiked a 8-day 150 kilometer loop in Parque Nacional de Los Picos de Europa, a national park in the north of Spain.
---
---
Fuenté De to Ándara (Collado de Valdominguero)
20.11km | 12.50mi
2082m | 6831ft 1101m | 3612ft
Camp Ándara | N43° 12.0055' W4° 44.2302' (2176m | 7140ft)
In the morning I took the first bus at 8:30 from my hostal in Camaleño to Fuente Dé, a 20-minute ride. Fuente Dé is a small tourist area at the end of the road with a campground, hotel, some restaurants and of course the cable car into Los Picos. In Fuente Dé I looked up the steep rocky slopes of the Los Picos mountains. The low clouds covered the higher peaks in fog. I must admit I felt slightly intimidated, even more so when I realized I had to climb the height of these peaks (600m) two to three times each day on average. But I also felt excited, the weather was good, and I felt good.
Basically everyone takes the cable car up, but to me that felt a little bit like cheating. Instead I started the trip with an unmarked trail into Los Picos. The trail was hard to find at times, and the terrain was steep, but I made it up to the higher plateau relatively easily. The trip I meticulously planned and looked forward to finally started!

At the top of the cable car the terrain is relatively easy. Being one of the higher easily accessible points in the park there are a lot of tourists. I followed the 4x4 road that gently winds down into the valley towards Sotres between the massifs Los Urrieles and Ándara (See About Los Picos for information about the geography). The valley was filled with cattle, horses and sheep, the clouds around the higher peaks of Los Picos revealed the massive peaks every now and then. The farther I moved away from the cable car, the less people I saw. An hour in I was alone. The trail lies on a saddle elevated in the middle of the valley. On all sides I could hear cow bells ringing in the distance; there was no wind. A dozen big raptors (Griffon vultures?) were circling the skies above me.

Around 2pm, after a good coffee, I started the biggest climb of the day (1100m gain) towards Collado de Valdominguero, into the eastern Ándara massif of Los Picos. The trail was significantly more difficult and steep than the 4x4 road I was on most of the day. An hour in I passed a guy coming down the mountain. He told me he had turned around because the trail was getting too dangerous with steep slopes and poor visibility due to the fog. I decided to continue and see it for myself. Not long after I passed a second guy coming down who had also turned around. Ok, now I was getting a little anxious about what was ahead ...

The terrain got more dangerous for sure. The trail transitioned from sand/grass/rock to sections of bedrock over 45 degrees. It was no longer hiking, but more like climbing, needing both hands and feet. But I felt in control and proceeded cautiously. Slopes of loose gravel followed where it felt every 2 steps up was 1 down.
Several hours in I was getting close to the top. The canyon narrowed and the fog started to move away, or more likely, I was climbing out of the fog. With less than 100m to go the walls were just several meters apart when I hit a vertical wall 10-15m tall. There hung a single rope with knots. This was getting adventurous, this is what I like! I pulled myself up the wall (twice). Next, a 15-meter steep wall with no rope. I could see the green grass in the saddle of the mountain just above it. I put my camera away and slowed down; this required my full attention. With both hands and feet I climbed up the wall, making sure I had 3 points of contact at all times. A misstep could be fatal here.

I made it! The rocky slopes made room for the grassy saddle. I was above the clouds; the views were unreal when looking down the valley I ascended from. My initial plan was to hike several kilometers further to a small lake and camp there. But when I spotted a small spring, a near horizontal patch of grass a little higher up and knew the weather was going to be calm that night, I decided to pitch my tent right there.

What a camping spot for a first night. Looking to the west I looked over the peaks of the middle massif (Los Urrieles) of Los Picos sticking out of the clouds. A little to the north clouds as far the eye could see. To the east giant rock pillars. The sunset above the clouds was perfect. The red glow when the sun sinks in the clouds is mesmerizing. Taking good video and photos was no difficult task, all seemed to be so perfect.

Just after sunset, some visitors stopped by my tent. Mountain goats were heading down the mountain towards Sotres with their bells ringing. Apparently I was on their default migration route. They stood close to my tent and stared at me for a while, probably asking themselves who that strange goat was sleeping on the top of the mountain. Likewise, I stood in awe seeing them climb and jump rocks at least 3 times the speed I do. The closest town was at least 2 hours hiking from here, but these goats heading back to the valley could probably do it in 20 minutes.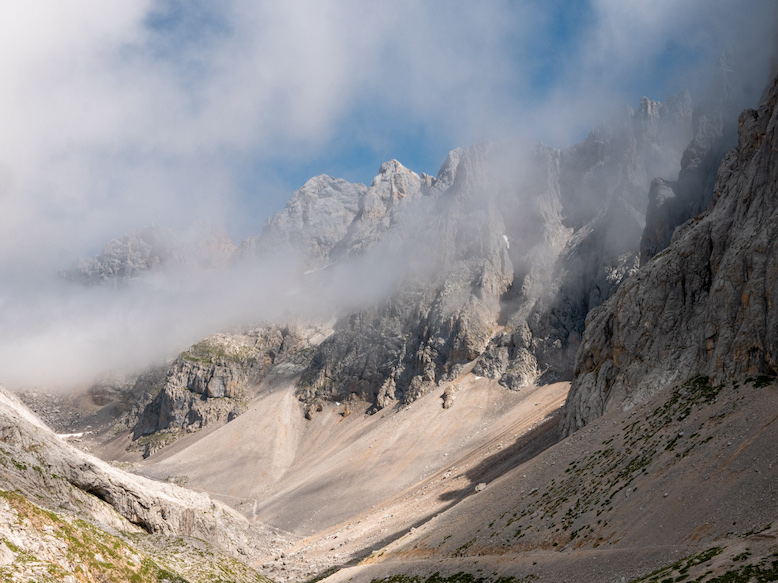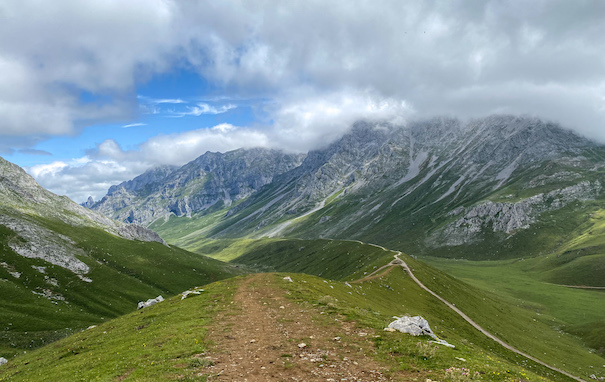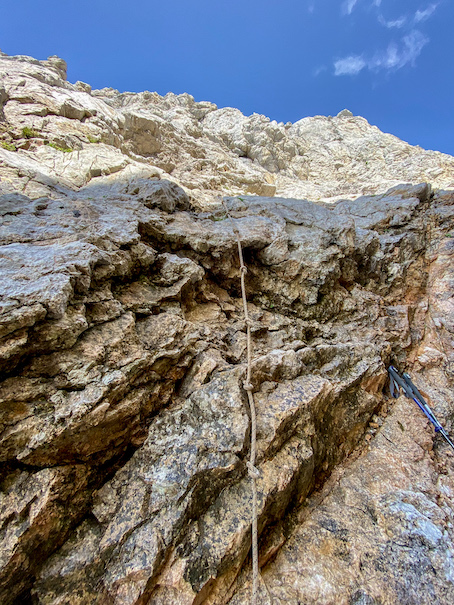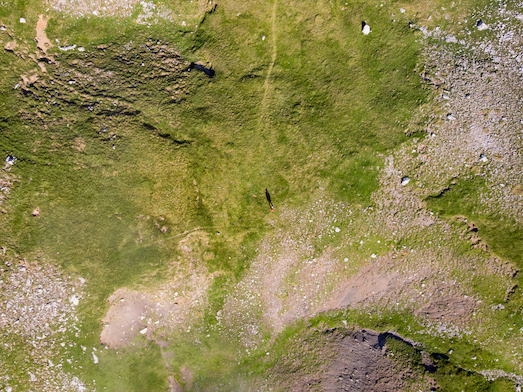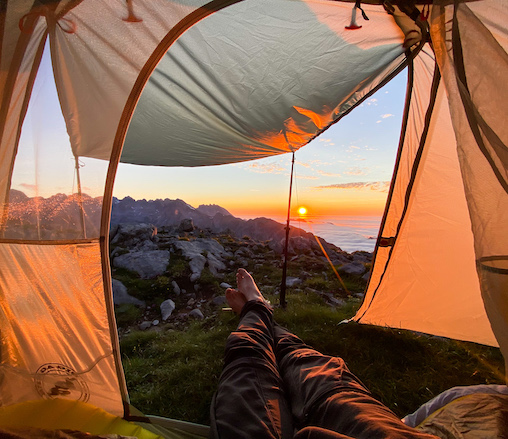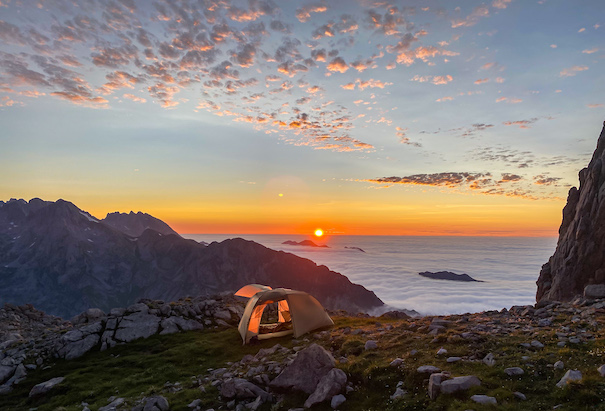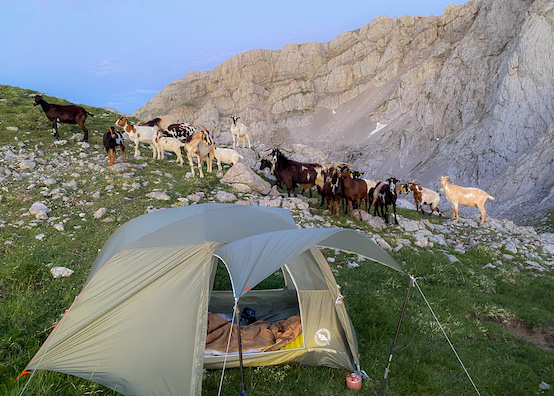 \\ July 9 | Day 2: Sun & no clouds
Ándara (Collado de Valdominguero) into the Urrieles to Jou de los Cabrones
30.26km | 18.80mi
1779m | 5837ft 1950m | 6398ft
Camp Cabrones N43° 12.7722' W4° 51.4636' (2049m | 6723ft)
So much daylight! My last hikes were all in late fall with only 11 hours of daylight, these 18 hours of daylight each day were great! I could catch the first rays of sunlight at 7am instead of 10am, and I didn't really need a flashlight at night getting dark after 11pm.

From my campsite it was an almost 1200m descent to the small village Sotres, but in contrast to the west-side ascent yesterday, the east-side descent was very gentle and much easier. What surprised me most about this area, and also Los Picos in general, is the amount of caves, cravasses and sinkholes everywhere. I would have loved to explore these areas more if I had more time, but I had to make some progress today.

I arrived in Sotres at noon and enjoyed a meal and coffee at a local restaurant while recharging my batteries. The small town of Sotres has many restaurants and hotels, and is accessible by car.
An hour later I set out for the second part of the leg for today deep into the Urrieles. It was hot, there were no clouds and there was barely any wind. And characteristic of Los Picos: no trees, and often no vegetation at all in sight. The long gentle ascent into the mountains seemed to take forever. I must say I prefer steep ascents over these gentle ascents. The 2 hour climb was a crowded one. Many people hike to the Refugio Vega de Urriellu, which is also a popular destination for climbers for the 550m vertical wall of Naranjo de Bulnes (Pico de Urriele) next to the Refugio.

I passed by the Refugio and continued on an unmarked lesser known trail heading west deeper into the Urrieles. The trail is significantly steeper and probably my favorite part of the day. The big highlight was Corona del Rasu, a narrow 30m high crevasse with metal bars to climb up through. The views on Naranjo de Bulnes from the top of this section are just amazing.

It was past 6pm when I started the last section towards Jou de los Cabrones. I really wanted to make some progress today. And with only some scattered springs in the mountains, it was either staying at (the busy) Refugio Vega de Urriellu, or continuing several hours more to Refugio Jou de Los Cabrones. I chose the latter. This section felt like walking on another planet. All I could see around me were the rough grey limestone rocks. I liked it a lot.
It was not until 8pm when I arrived at Refugio Jou de Los Cabrones. The Refugio lies in a small valley surrounded on all sides by peaks. I pitched my tent as far away from the refuge as possible on a small patch of grass. I was exhausted. I had hiked over 30 kilometers today and must have drank more than 10 liters of water.

The sun was slowly setting behind the mountains turning the high peaks deep orange. I sat in front of my tent having dinner: pasta with tomato soup powder and fuet. The sky was perfectly blue and there was no wind. The only occasional sounds I could hear were falling rocks by the Rebeccos (Chamois) in the area.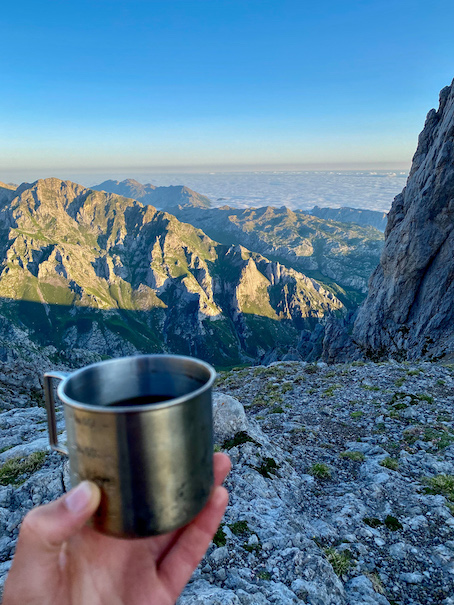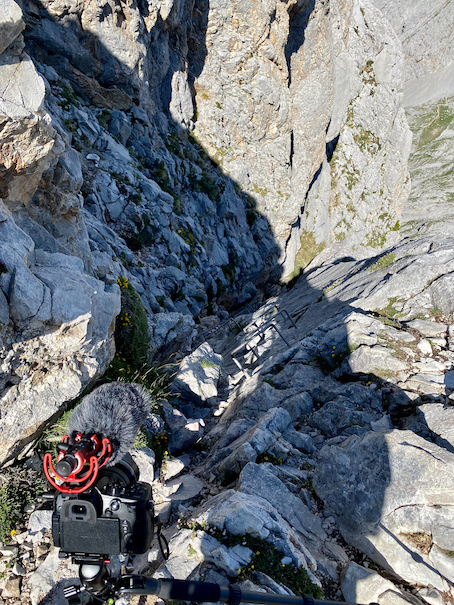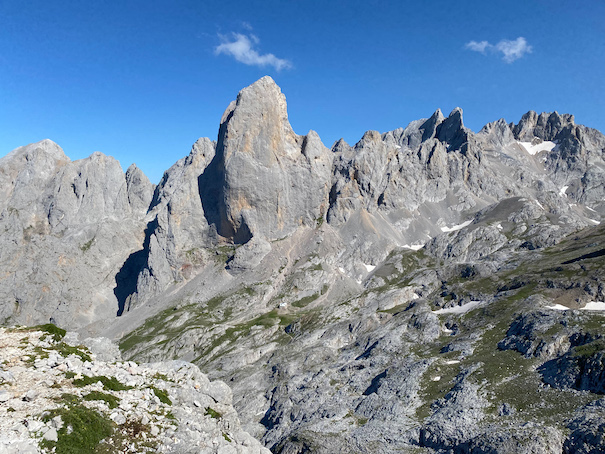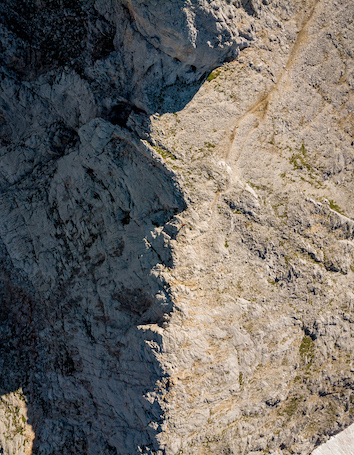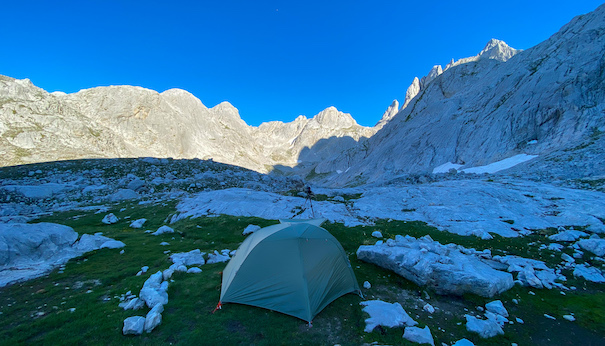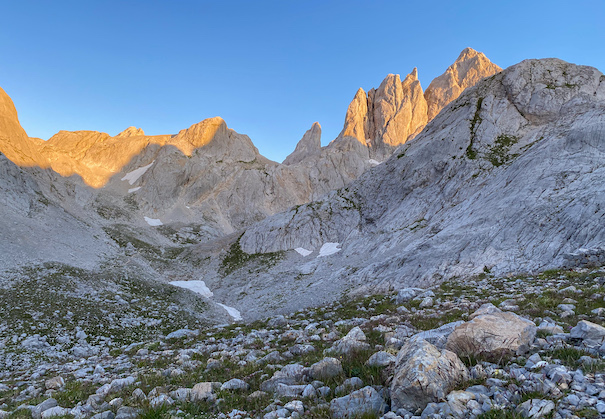 \\ July 10 | Day 3: The old aqueduct
Jou de los Cabrones to Caín via Bulnes
28.50 km | 17.91mi
620m | 2034ft 2113m | 6932ft
Camp Cain N43° 12.7793' W4° 54.2163' (449m | 1474ft)
I've never had breakfast at (or stayed in) a refuge, so this felt like a good chance to experience that. And not making breakfast and coffee at the tent saves a lot of time in the morning. At 7am I sat down in the refuge. In front of 2 plastic jugs with instant coffee and instant milk, a basket with some dried out bread and cookies and a napkin with a knife. Loved it! Everything in the refuges is brought up by backpack, mule or helicopter, so no five-star meals or fresh food. And as I would experience soon, the trail ahead was not particularly easy.
At 7:45 I hit the trail and set out towards Bulnes, a small town with a population of 35 in the valley ahead. The sun was still behind the tall mountains around the refuge, the sky was perfectly blue and there was not a breath of wind. The trail was rocky, with a lot of sharp bedrock. Apart from some yellow markings every now or then, there was no sign of a trail on the solid rock. My favorite part was repelling down a steep wall with a rope attached there. Progress wasn't fast, but these kinds of trails are most fun.
The final descend to Bulnes was steep and not as enjoyable as the first part. Going downhill always feels physically more demanding than going uphill. A 1400m descent later I arrived in Bulnes, and had a coffee at El Redondín Casa Rafa (views from the terrace are stunning) and continued further down the valley towards the most touristy area in Los Picos.

The last 10 kilometers to Caín de Valdeón (Caín) are amazing. The near perfectly flat trail lies on a steep mountain following an old (still functioning) aqueduct. It amazes me seeing the engineering that went into building the aqueduct and trail. Numerous sections of the trail are carved into the mountain with steep vertical drops 100-300m down. There are tunnels, bridges, mountain goats and some of the steepest walls I've in the park. It's also one of the most crowded areas of the park, but worth walking through. Unfortunately I lost most of the footage from this section, so not much is shown in the film.

I arrived in Caín late afternoon. The small town of Caín is surrounded by tall mountain peaks on all sides. Among the dozen hotels and restaurants there's a small supermarket where I resupplied food for the days to come. On the other side of the creek in Caín is a large area with grass and trees, which seemed to be meant for camping (see camping in Los Picos below). I pitched my tent, took a dive in the creek, strolled through the streets of the idyllic town and enjoyed a proper meal.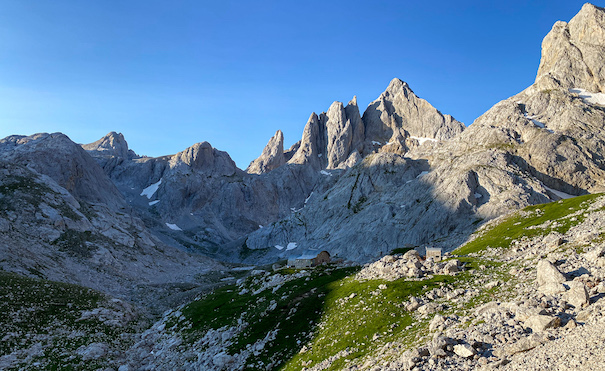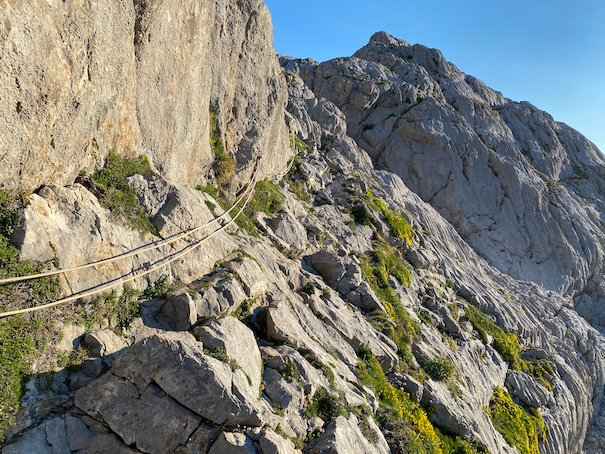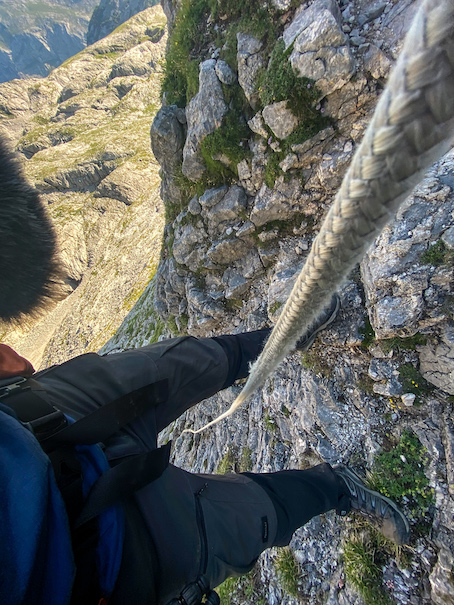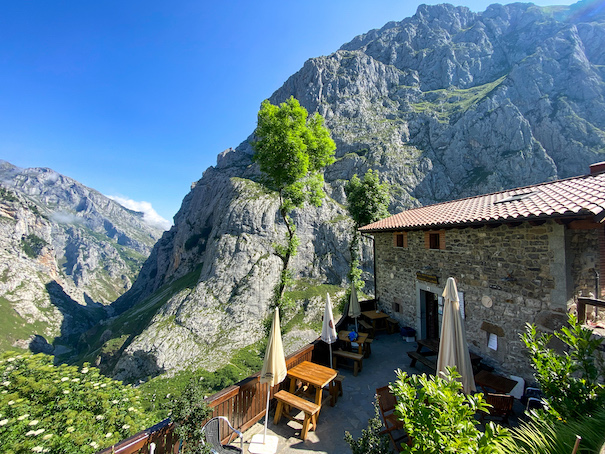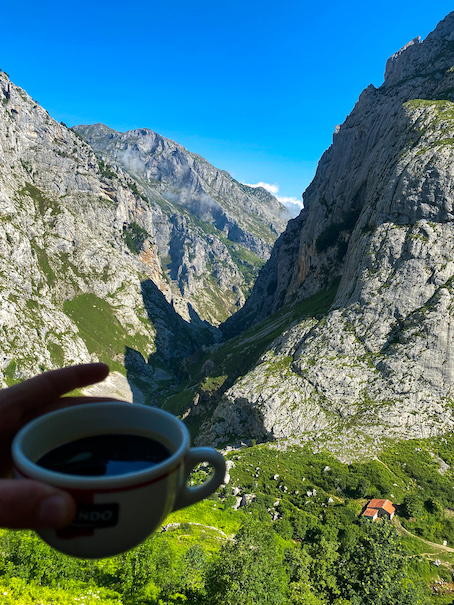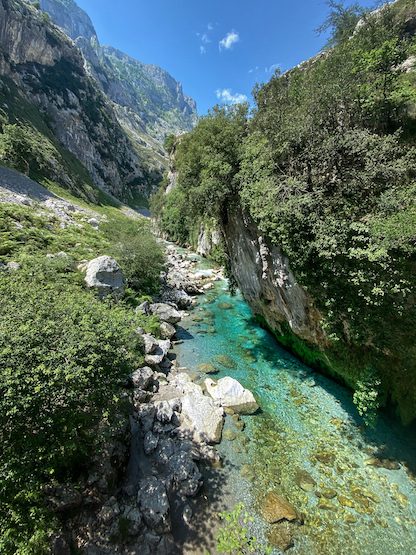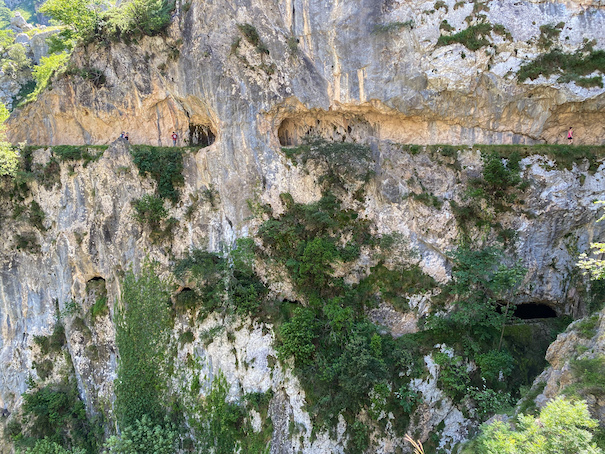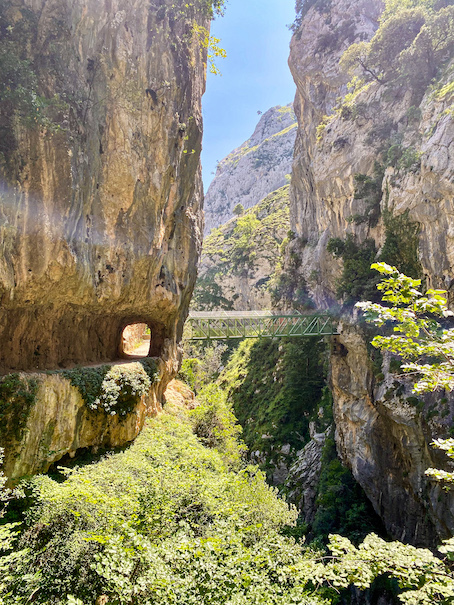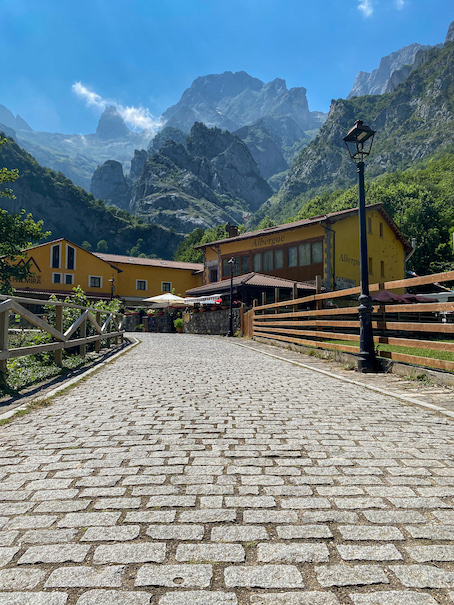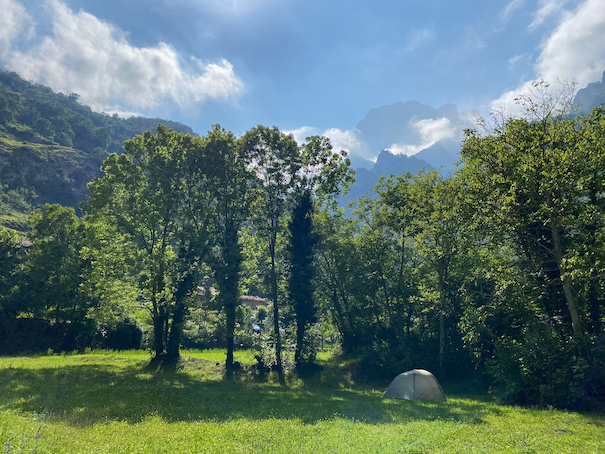 \\ July 11 | Day 4: Into the Cornión massif
Cain into the Cornión massif via Regufio Vega de Airo
15.4km | 9.7mi
1825m | 5988ft 541m | 1775ft
Camp Cornión N43° 13.9394' W4° 56.9591' (1776m | 5827ft)
I slept terribly and woke up feeling even more terrible, I felt sick and my legs hurt so much I could barely walk at first. Not sure if I was just over exhausted by the mileage of the last few days (for someone who is used to running 8-12 times a week, I doubted that), the bad sleep or some bad food or water I had. I knew this day was going to be though, but staying in one place all day was no option for me. I'd rather make it a short day than doing nothing at all. The coffee helped, and after a slow start I headed for one a difficult section out into Conión, the western massif of Los Picos (and the most remote part).

The trail first goes up steeply several hundred meters out of the valley and was hard to find the first section, and (in contrast to the last days) overgrown with plants and trees, scraping my legs as I made my way through it. This is a trail that isn't used often. After the first climb, the trail flattens out and follows a ledge on the mountain with almost vertical terrain above and below. For the next hour the terrain goes up and down with the ledge with some extreme gradients in some places where I had to pull myself up on grass pollen. The trail then goes steeply up through a small gully with a cattle gate half through. The alley is called callejo de tormo, translated torno alley An extremely steep, but great section!

The terrain changed. I passed through wooded areas with the forest floor covered in a blanket of green tall grass. Without GPS or some vague signs of a trail, I for sure would not have found a way up these mountains. Progress was slow (and more than once painful), but I enjoyed the change in surroundings. I felt not great, not terrible. My goal was to get up the mountain, and relax.

Two hours in I came to a large gully, the last big climb of the day towards Refugio Vega de Aire was still ahead. But I started to feel sick again, and felt like I was losing as much energy as sweat. I decided to take a break where a creek magically appeared out of the mountain. If it weren't for the swarms of flies I would have fallen asleep there for sure.
Feeling even worse than before the break I started the 700m climb, which also turned out to be the steeped climb of the loop. The sun was high in the sky, there were no clouds and no wind. The next 3 hours were without doubt the longest and most terrible 3 hours of this trip. Fighting a headache and dizziness, and literally totally soaked in sweat I pushed myself up the mountain. While on a normal day I gain 600m in an hour, now I had to stop and sit down every 10 minutes; I felt completely energyles, I felt terrible.

At 1pm I finally made it to the refuge. I don't remember all the details of the last section, I was so tired, and felt awful. I bought a 4 euro cola and some crisps and just sat down and stared ahead for half an hour picking myself up.
The refuge lies on a big green plateau and is surrounded by cows with bells. The place is beautiful and radiates the remoteness.
Several hours of resting and some sleeping later I felt somewhat better. Not spotting any (cowpoopfree) camp spots near the refuge, I decided to continue south on the high plateau towards one of the next 3 springs on my map.

The terrain is quite different from the other massifs. It is hilly with grassy patches between the (sharp) rocks. The trail is easy to follow when on the grass, but impossible to follow on the rocky sections. I couldn't have done this section without my maps on my phone.
The first spring didn't seem to exist, or at least not this time of the year, so I continued. An hour later I arrived at the second spring. No water ... But I did spot some patches of snow in the area sufficient for melting for drinking water. I didn't have the energy to continue to the next mapped spring and I doubted it would even exist. I found a decent grassy spot for my tent and was about to pitch my tent when I heard cow bells in the distance. And where there are cows, there is water. And indeed not far ahead I found a bunch of cows and a small spring. I pitched my tent while the cows looked at me strangely.
Finally the tough day was over. I surely didn't feel like myself today.

The weather slowly started to change. Fog banks started rolling in in the afternoon. Rain was in the forecast for tomorrow.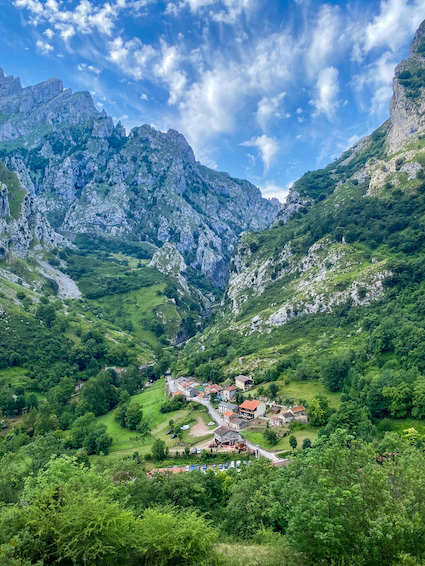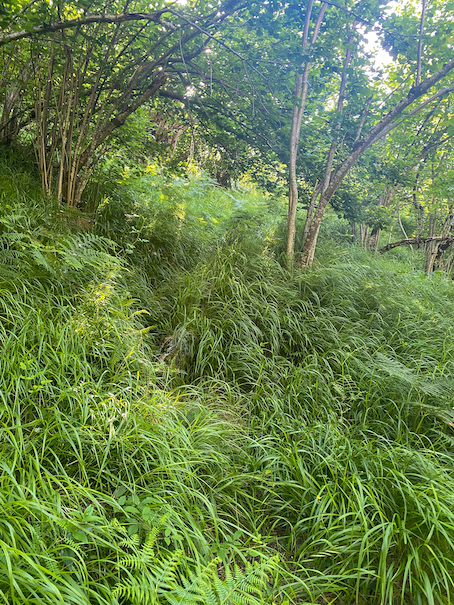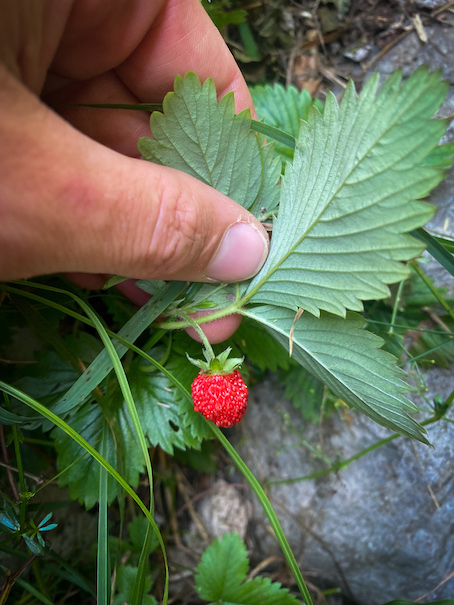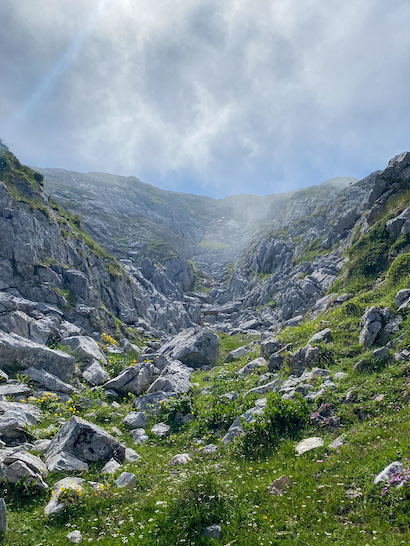 \\ July 12 | Day 5: Rain & Refuge
Cornión massif to Refugio Vegarredonda
7.33km | 4.55mi
451m | 1480ft 792m | 2598ft
Refugio Vegarredonda N43° 14.0732' W4° 59.5681' (1427m | 4682ft)
I slept 12 hours that night and felt much better in the morning. With a heart rate during the night more than 20bpm higher than usual, I knew I still was not fully recovered. I adjusted my initial plans of heading northwest towards Lagos de Covadonga and instead headed straight for Refugio Vegarredonda. The weather had changed; thick fog banks were rolling by. Every now and then I could see the mountain peaks in front of me, a pleasing sight that never gets old for me.
All morning I hung in and around the tent, reading and relaxing. Short but heavy rain showers passed by occasionally. I picked the right day for an easy day. I packed up my tent (in a rain shower) and got going around 2pm.

The following 7.5 kilometer hike to Refugio Vegarredonda was one of my favorite sections of this trip. The terrain is relatively flat with climbs no more than 200m. The trail is technical and often hard to follow. Numerous segments are on the sharp-edged bedrock typical here. The patterns in the rock in combination with the fog and rain made it look like another planet.
About halfway through the brief rain showers turned into continuous rain. Not the best hiking conditions, but not at least it was not freezing.

Late afternoon I arrived at Refugio Vegarredonda. I intended on camping near the refuge, but seeing the grass under 5 centimeters of water made me reconsider that plan. I decided to spend the night inside the refuge. My first ever night in a (manned) refuge.
The refuge has 59 beds divided over 2 rooms in the main refuge and 1 more in a small building across from the refuge. Only about 20 beds were filled, and due to covid not all beds could be occupied anyways. The heating was nice, being able to dry my clothes and gear. Dinner was great; don't expect 5-star meals in the refuges. As a sign at the door said so beautifully: "ESTO NO ES UN HOTEL NI UN BAR NI UN RESTAURANTE, ES UN REFUGIO DE MONTAÑA'', meaning: 'this is not a hotel not a bar not a restaurant, it's a mountain refuge". But to me it felt luxurious.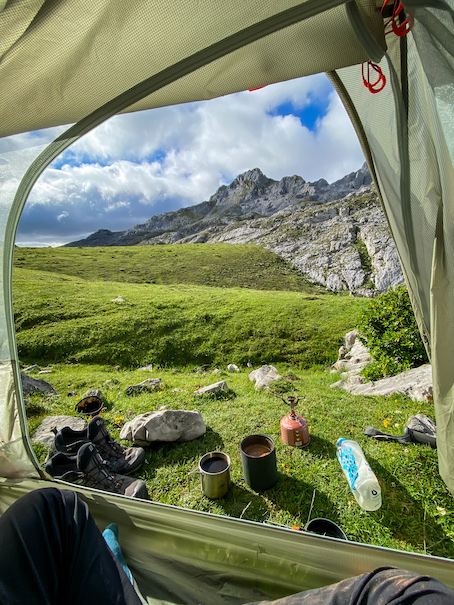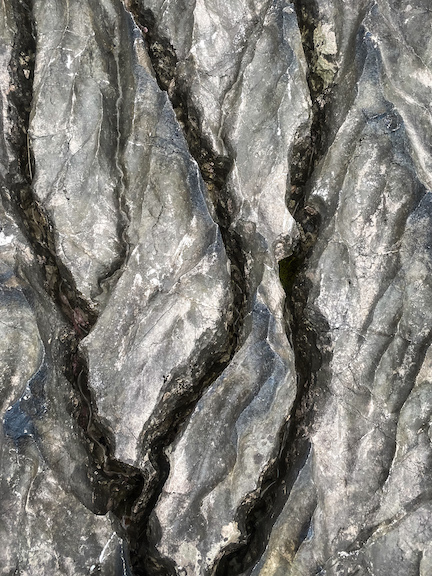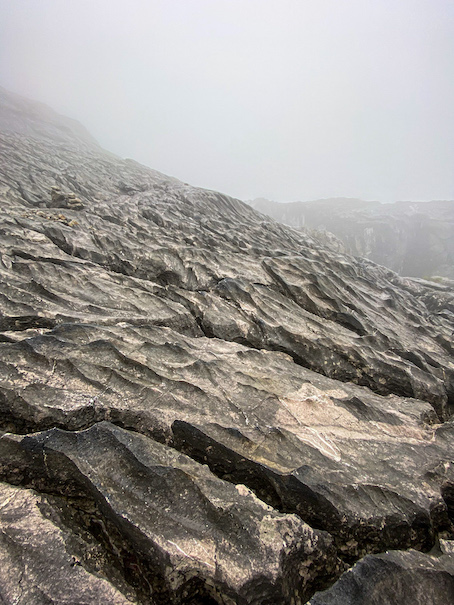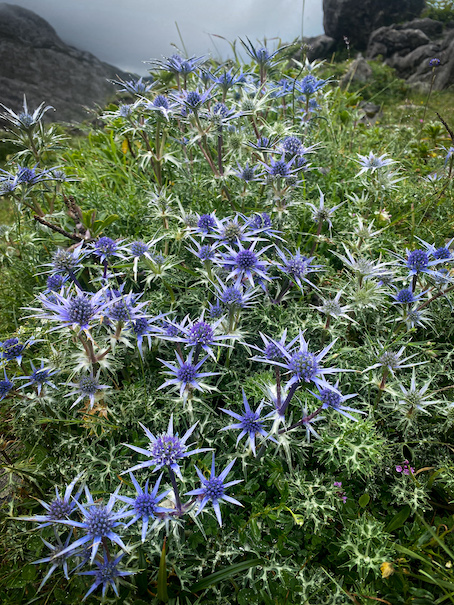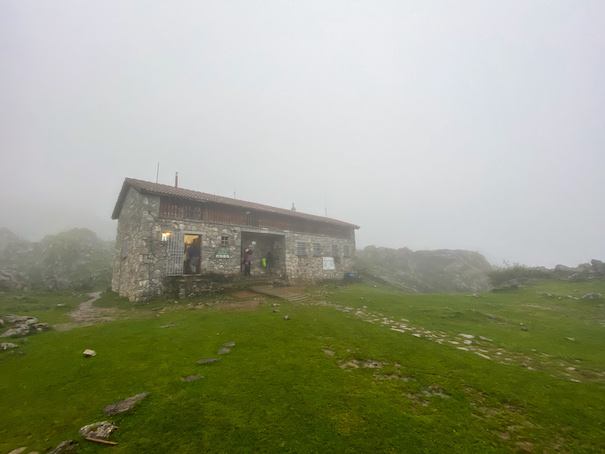 \\ July 13 | Day 6: Fog & Forest
Refugio Vegarredonda to Arroyo Argoya via Cabaña Vega Huerta and Refugio Vegabaño
25.80km | 16.03mi
1615m | 5299ft 1956m | 6417ft
Camp Argoya N43° 08.9924' W4° 57.6152' (1156m | 3793ft)
Breakfast at 7am, on the trail at 7:30, another great benefit of sleeping in a refuge. The day started with a 600m climb, but all on marked trails, so progress was much easier. The weather was the absolute opposite from the days before: it was cold and foggy; I was wearing triple layers and gloves to stay warm. It's the Atlantic that causes these extreme changes (see About Los Picos de Europa below). The climb felt effortless compared to 2 days ago; I was feeling better for sure and enjoying the endeavor.

At the top, the trail flattens out and follows the contour line of the mountain winding through rocky sections with some technical sections that required both hand and feet. Remarkable for this section were the snow patches everywhere owing to the fact that the trail is mostly on the north side of the mountain. 3 hours and 10 kilometers in, I arrived at a mountain shelter (Cabaña Vega Huerta). A small unmanned stone shelter with 2 bunk beds with mattresses of concrete. The wind had really picked up, so it was pleasant warming up and making some coffee inside. When I sat there, the weather started to clear up, allowing for the first views of the day. I lingered in the shelter for almost an hour and a half, waiting for weather to further clear up. Because what's the point in rushing when I don't get to enjoy the grand views?

With the fog rolling out and the sun breaking through I continued on the trail to the highest point of the day (2125m) and then down the mountain. About 3 kilometers from Refugio Vegabaño the trail winds through grass and into a forest. The first forest on this trip! My goal for the day was to go past the refuge towards Posada de Valdeón. There is a shorter route skipping the extra loop via the refuge that I considered doing instead when noting the geographically boring section on the map. But I'm glad I didn't, this section is gorgeous!
The rain and the sandy terrain made for some very muddy trails. Often I was hopping over rocks in an attempt to keep my feet dry and crossing small streams and swamps. In the late afternoon I stopped at the refugio for a short break and continued towards Posada de Valdeón.
The weather had improved: it was sunny, with some clouds and a cold wind. After the refuge the trail gains 300 meters up a mountain through sections of thick forest with very muddy and slippery trails. Towards the top the terrain opened up and I came to a trail intersection. Both trails were heading in the right directions and would merge again according to the map. Both trails looked equally overgrown, so I picked the trail higher up the mountain. Wrong decision. The trail got into thick vegetation and soon was fully overgrown with thick bushes (genisteae like plants) and I solely had to rely on my phone for navigation. Progress was slow, and I was tired and getting annoyed. But, I could also see the beauty of the forest I was walking through, still so pure and untouched.

Walking backwards through the thick bushes of the last section to protect my camera on my chest, I eventually got onto the better maintained trail and was ready to pitch my tent. After some searching for the ideal sport (water & views), I pitched my tent in the middle of a sloped, overgrown meadow. In front of me: views of some tall peaks of Los Picos, behind me distant views of forested hills.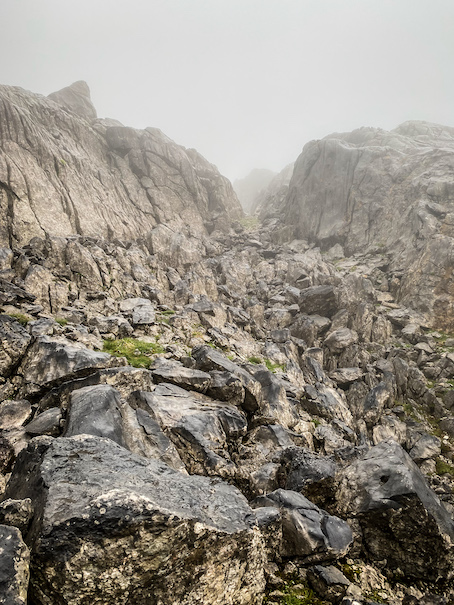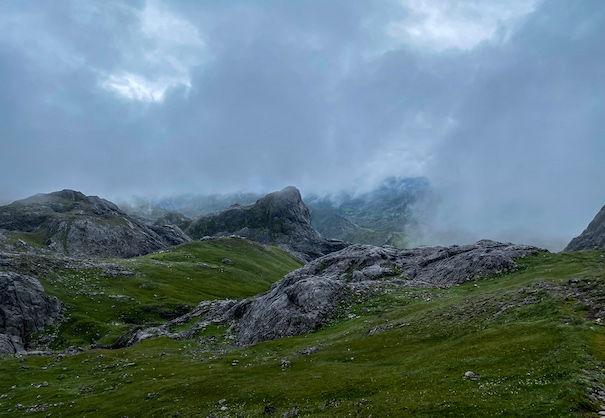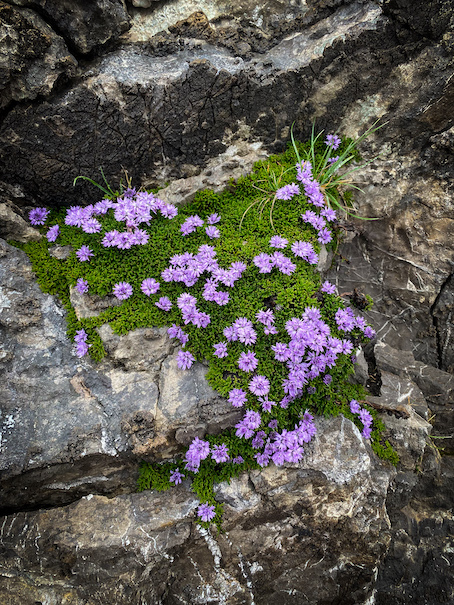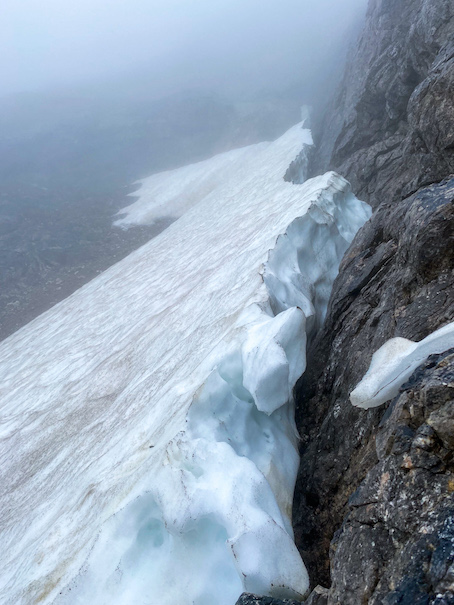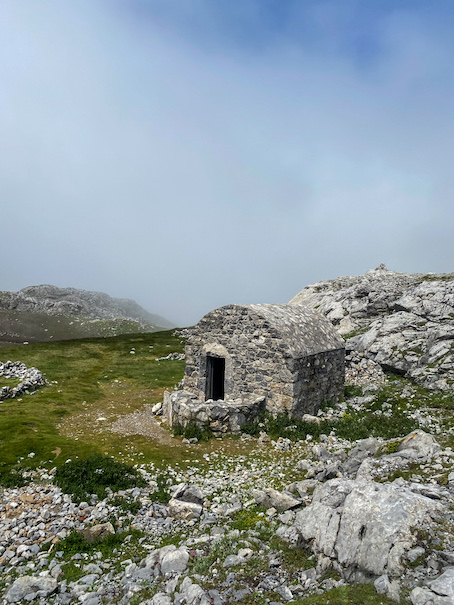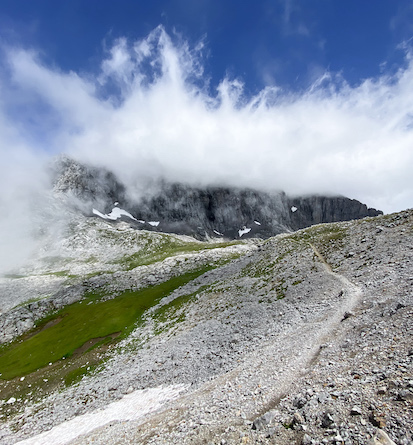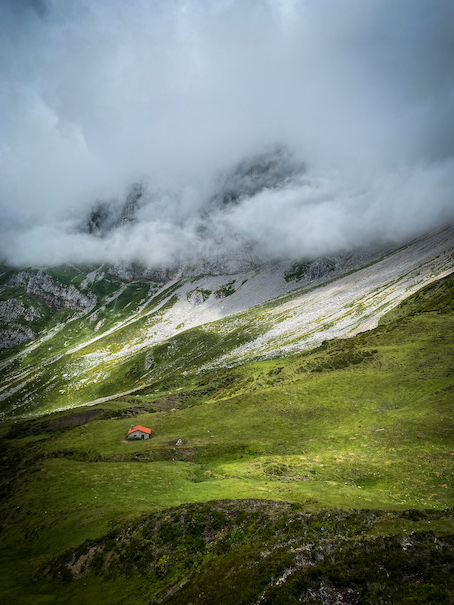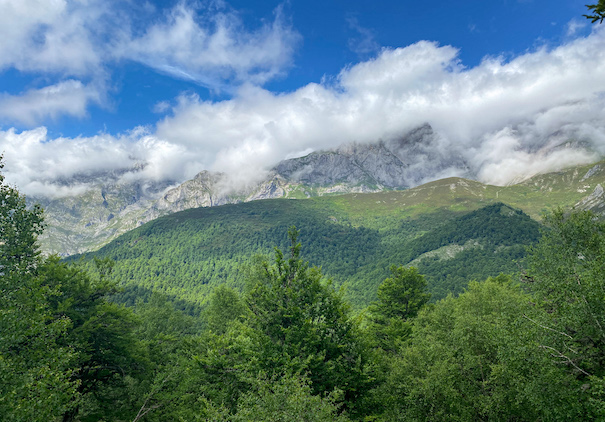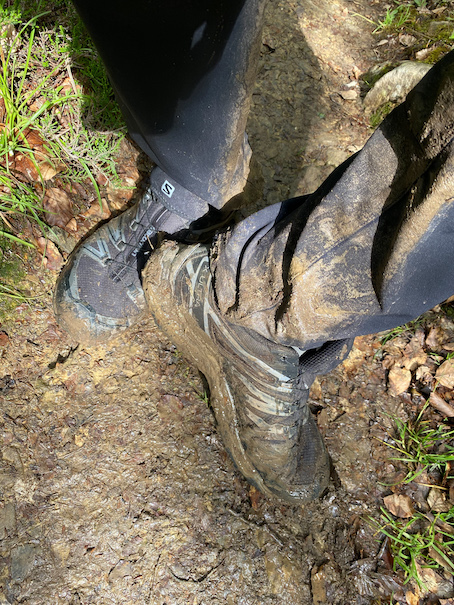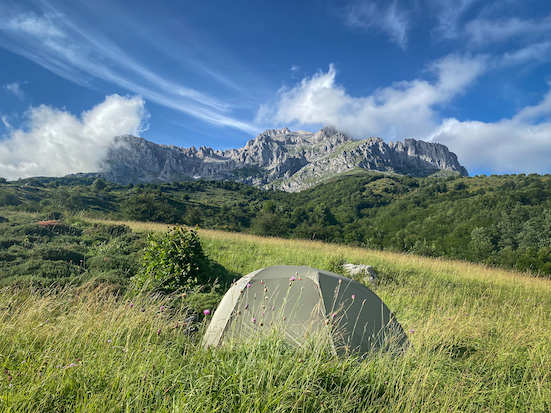 \\ July 14 | Day 7: Slow down & Cave camping
Arroyo Argoya to Torre del Llaz via Posada de Valdeón and Refugio Jermoso
17.32km | 10.76mi
1497m | 4911ft 524m | 1719ft
Camp N43° 10.5460', W4° 52.2533' (2144m | 7034ft)
There is nothing that ruins your mood more than wet socks in the morning. Last night, with the sun still high above the horizon, I washed my socks in the stream nearby. But right after doing so, clouds moved in covering the sun and preventing my socks from drying ...
At 7:45, before eating any breakfast I hiked the last hour to Posada de Valdeón, the first town since Caín. This section was quite uneventful, most of it on a gravel road and all downhill. Posada de Valdeón is a small town with some restaurants, a panadería (bakkery) and several hotels. Time to recharge for the last stage of the loop. I ate breakfast at Hostal Casa Abascal. Typical in Spain: when you order fruit in a restaurant, they serve an unpeeled and uncut piece of fruit on a plate with cutlery.

I restocked at the bakery (also a mini store) and headed for the climb back into the Urrieles massif once more. The 1200m climb is steep, but on a rather good trail with bewildering views. The first section goes through a forest that opens up in a deep valley with steep walls and tall peaks on both sides. I hiked firmly and made it up to Refugio Jermoso just before 2pm. I sat down a bit higher up from the refuge with coffee and lunch.
I planned on continuing a bit further to Cabaña Veronica 2 hours from here, but I actually enjoyed slowing down (and glad I didn't continue the day after, because there is no anywhere close to that refuge). The last 8 days were 8 long and tough days, especially because I didn't always feel as fit as I'd have liked. I sat there for 2 hours enjoying doing nothing, enjoying the ultimate silence there was, while fog slowly started to move in.

One more night in the mountains, time to look for a camping spot. There are several camping spots close to the refuge, but I prefer something more remote, and unique. I continued down the trail towards Torre de Llaz (a rock with great views) when I spotted some caves in the rock wall near the trail. My immediate first thoughts were 'that would be so cool', but then the rational side started kicking in: 'is it safe?', 'what animals live in that cave?', 'how uncomfortable must that be?'. But with such a first thought in the back of my head, I had to check it out and be 100% sure it couldn't be done before deciding not to do it. I scrambled up the rock wall to check out the biggest cave.

The cave was just over 1.5 meters tall in the front, getting lower and darker towards the back. It was relatively flat and probably just big enough for my tent ... Deeper down there were a lot of animal feces, which I found out to be from the Rebecos (Chamois). It surprised me to see how hygienic these animals were: all feces in one place, but the taller part of the cave, where they probably sleep, free of any feces. After some doubt I decided to give it a shot. I never slept in a cave before, but it would have been something on my bucket list, if I had one.
Pitching my tent for sure wasn't as easy as it would have been close to the refuge. It happened more than once that I overestimated the height of the cave and scratched my back against the wall. The tent fitted perfectly, and when the fog just before sunset started to move down into the valley, I knew I made the right decision. The views and location were unforgettable.

At sunset I hiked up to Torre del Llaz not far from the cave. The rock is separated from the surrounding mountain by a small natural bridge with vertical drops on both sides. The views on top were beyond what I imagined. The setting sun was just above the mountains in the distance. All around me the valley was filled with fog rolling ever so slowly. I read the first chapter of Genesis, appropriate for this setting.
Fingers crossed the Rebecos wouldn't claim their cave back at night.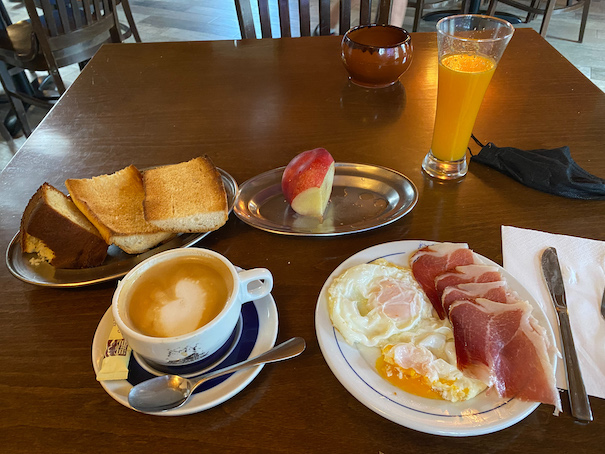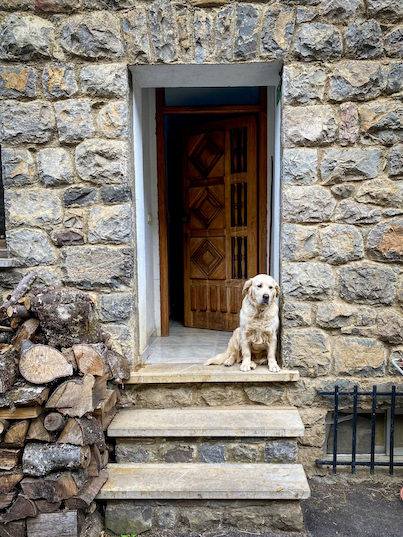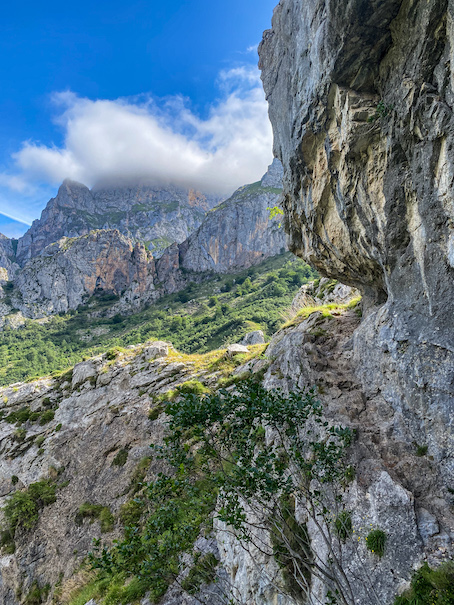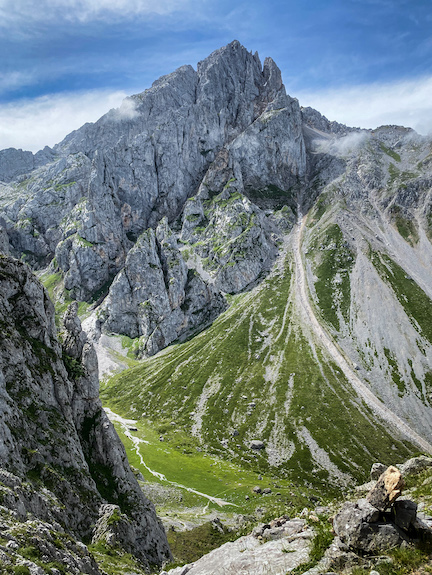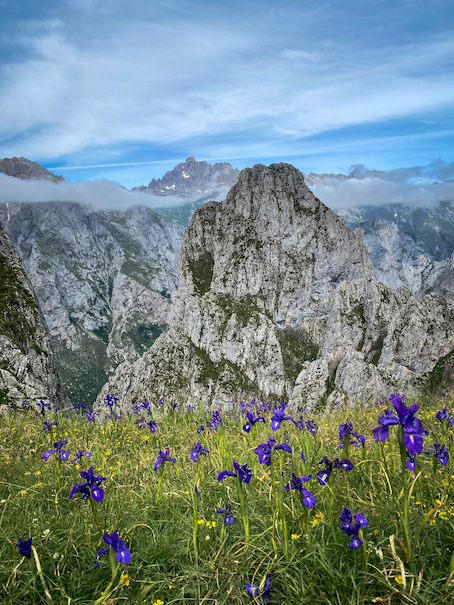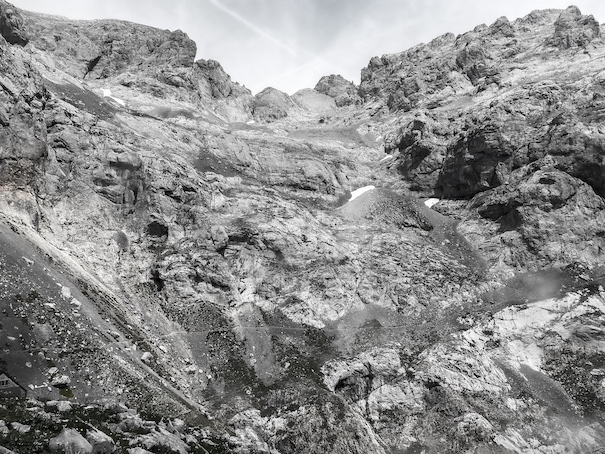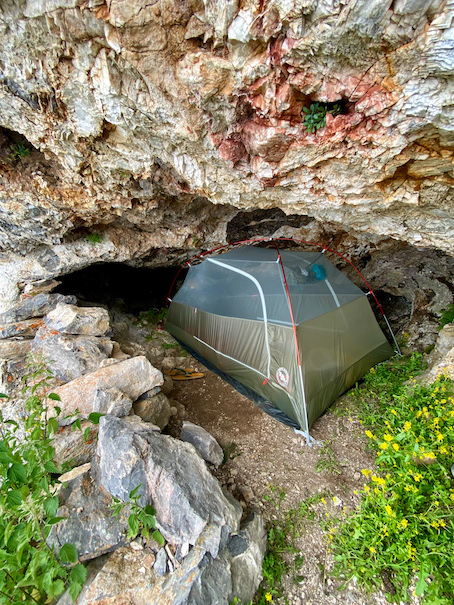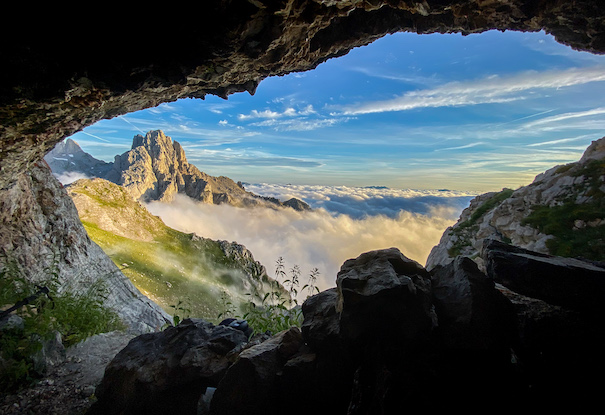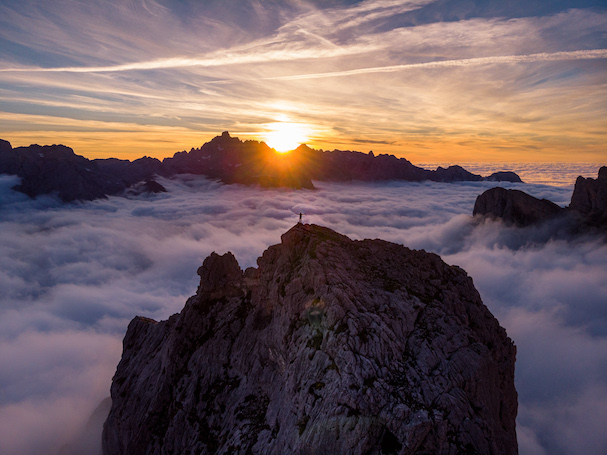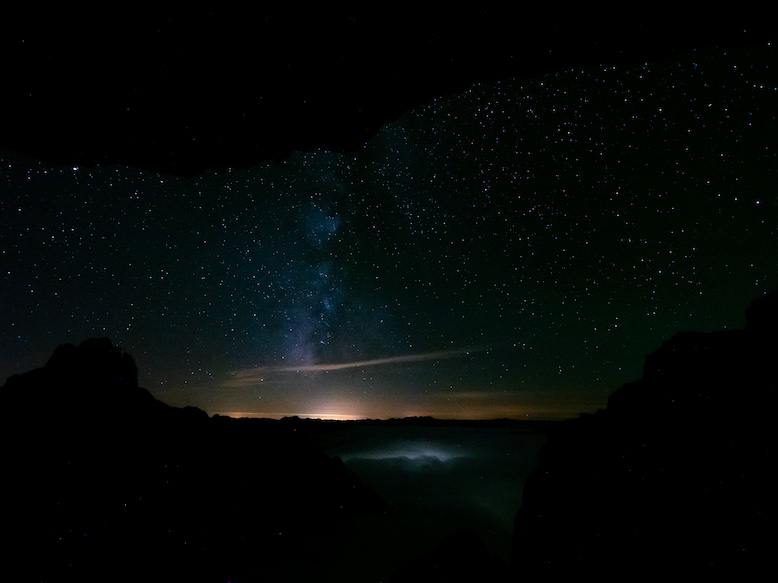 \\ July 15 | Day 8: Scrambling rocks
Torre del Llaz to Espinama via Cabaña Veronica and El Portal de Picos
18.31km | 11.38mi
840m | 2756ft 1915m | 6283ft
The final day. A calm wind silent morning with blue skies. The night in the cave wasn't too bad, apart from the uneven rocky ground. But no Rebecos, spiders or snakes in my tent at night. However, in the morning several Rebecos were watching me from rocks nearby, like they were waiting to reclaim their cave.

I left around 10am heading towards Cabaña Veronica. Looking at the terrain on the map I expected today to be easy. The part, from Refugio up several hundreds of meters, was quite easy. The trail was decent, and the terrain not too steep. But the terrain got gradually more difficult with each mountain spur I passed. The second gully was more like hopping from rock to rock and climbing to the next spur more like sliding on loose gravel. On top of the next spur/saddle I could already see Cabaña Veronica close by with what looked like relatively flat terrain in between. I couldn't have been more wrong.
This was probably one of the most technical sections of the entire loop. Sharp pointy bedrock poking my feet through the soles of my shoes with a hard to follow trail. Progress was slow. Each time I thought I was almost there, there would be another ravene that needed to be crossed. Yet, this was one of the most fun sections of the entire loop. Hopping from rock to rock and climbing walls in an attempt to find the easiest route.

Cabaña Veronica is the smallest refuge I've ever seen with only 6 beds. It's built from a WWII ship hull and not much bigger than an RV. It is also one of the rare refuges without a spring nearby. The closest water source is over 2 hours away, meaning even water has to be flown in.
Its location is surreal on a shadowless mountain top in an alien-like landscape.

From Cabaña Veronica it's all downhill towards El Portal de Picos (the cable car) on a bigger and much easier trail.
I basically ran down the mountain: I could almost feel the first shower in a week.
I made it to the cable car by 1pm and didn't really feel like hiking down the same steep trail I came up on a week ago. With another week of hiking ahead of me, I just wanted to get down and take a day off.
But luck was not on my side: the cable car was broken and out of service for an indefinite period. That explained why there were so little people up there ... I took the longer, but more gentle way down towards Espinama, 4 kilometers down the road from Fuente Dé, where there is a small grocery store. These 2 hours were rather uneventful.

I made it. Loop completed.

Terrain-wise this was the most difficult loop I've ever done. The marked, more popular trails are doable, the more adventurous unmarked trails are a lot harder, but also way more fun.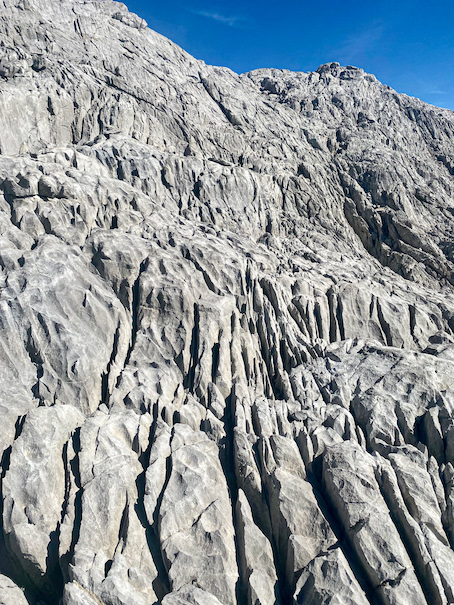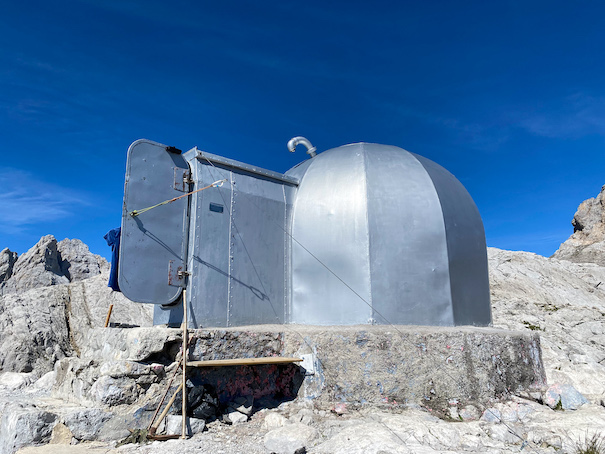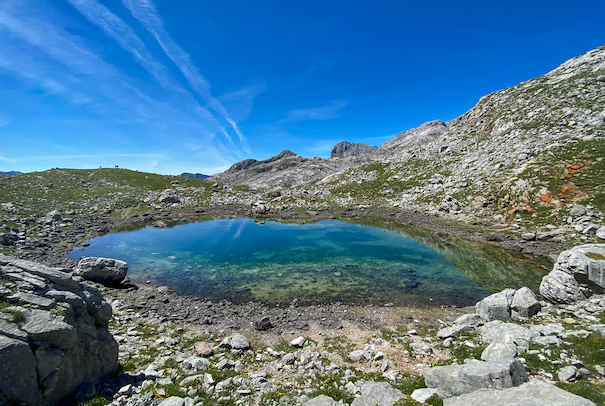 ---
I flew from Amsterdam (AMS) to Bilbao (BIO).
From Bilbao I took a 7am 90min pre-booked bus ride (Alsa, https://www.alsa.com/en/web/bus/home) for 8EUR to Santander. These busses go at least 4 times a day.
From the same underground bus station in Santander I took a bus 3.5 hour bus ride 2 hours later to Fuente Dé. I bought a ticket on the bus (~10EUR). Time schedules for these buses can be found here: http://www.transportedecantabria.es/; note that you can only see the schedule within the current season and that this website is outdated and slow. These buses go 4 times a day in the summer. You might need to transfer to a smaller bus in Potes.
The first night I stayed in a small hotel in the old part of Bilbao (La Estrella Ostatu). The second night I stayed in a small hotel in Camaleño (Hostal El Caserío), 16 kilometers down the road from Fuenté Dé. I left my extra backpack in the hotel. From Camaleño I took the bus from the day of the first hike at 8:30 (same bus as the day before). There is also a trail going up from Camaleño into Los Picos, but it is a lot longer, and with several hundred meters more of elevation gain (+ you'll miss the discouraging views of the steep walls of Los Picos in Fuente Dé).
The day of my return I lifted back to Camaleño (otherwise I had to wait 3 hours for the bus) and stayed in the same hotel as before. The next morning I took the same route back to Bilbao. There's only one road between Fuenté Dé and only one bus line.
| | | |
| --- | --- | --- |
|   | Category | Mass [kg] |
| | Main pack | 2.48 |
| | Camping gear | 3.43 |
| | Camera gear | 4.72 |
| | Cooking gear | 0.80 |
| | Clothing | 2.91 |
| | Misc | 0.83 |
| | Hygene | 0.22 |
| | Electronics | 0.85 |
| | Consumables | 2.82 |
|   |   |   |
|   | Total | 19.06 |
|   | Consumable | 3.07 |
|   | Worn | 3.93 |
|   | Base weight | 12.06 |
Full pack list: https://lighterpack.com/r/ae2lcb
Los Picos de Europa is a national park in the north of Spain, 25 kilometers from the coast as the crow flies. The mountain range spans 30 kilometers east to west, 15 kilometers north to south, but the mountains of Los Picos merge into the neighbouring hills and mountains.
There are 3 mountain ranges in Los Picos separated by valleys. The eastern mountain range is called Ándara and is the smallest, least impressive and least visited part of the park.
The central massif is called Urrieles and in it lies the highest point in the park (and all of northern Spain) (Torre Cerredo, 2648m). The central part is the most visited park, and the most rough part.
The western massif called Cornión, is the largest, most varied and most remote of the three ranges. My personal favorite part.
There are 5 main villages you pass through on the loop: Fuente Dé, Sotres, Bulnes, Caín and Posada de Valdeón. In Posada de Valdeón and Caín are small supermarkets, the other places have multiple of restaurants and overnight options. Scattered through the mountains are plenty of refuges that offer overnight stay and food. During my 8-day loop I must have passed at least a dozen of them; enough options.
Water is in abundance in the valleys, but higher up in the mountains it is scarce. Refuges are usually located springs (with the exception of Cabaña Veronica), and are a good place to aim for to fill up on water each day. Bringing a water filter is not necessary, but I recommend it, especially when wild camping.
Overnight camping (bivaoucking) is allowed in Spain but only above 1600 meters and only one hour befores sunset, and one hour after sunrise. Camping close to refuges is also possible in most occasions. Furthermore, it is allowed to camp in areas immediately surrounding the villages, for example the fields in the village center of Caín.
The terrain on the loop I did is difficult. Many trails are unmarked, and there are sections where you need to use hands and feet. There are easier options when you stick to the main marked trails, but compared to other places I've been, it's difficult terrain. Characteristic to Los Picos are the large areas of exposed rock (check the satellite view on the map above). There are no trees above 1500-1800m, although there is a lot of grass higher up (and thus cattle).
The weather in Los Picos is highly influenced by the Atlantic Ocean (which is as the crow flies just 20-30km away), and thus can be unpredictable and changing fast. Most rainfall occurs in the winter and spring, with the summers being relatively dry. Summer temperatures average around 21°C (70°F). But, as I experienced myself, one day it can feel like 30°C with the sun high in the sky and no wind, the next day it can be windy and rainy feeling like 5°C. Night temperatures in the summer can dip down below 10°C. The humid air from the Atlantic creates also creates of the most spectacular cloud effects: the sea of low clouds filling the valleys in the late afternoon and night. It is not uncommon to walk up from the valleys in cloud and suddenly come out into bright sunshine at around 1500m. But the same humid air also gives rise to the afternoon thunder storms (although not as violent as in the Pyrenees or Alpes). There's normally snow in the mountains from late October into early April, although snow can stay on the higher trails well into June.
More information about the geography and climate in Los Picos: tumbarumba.co.uk
More information on camping, and other park related stuff: parquenacionalpicoseuropa.es